→ Overview
→ Puzzles and Solutions
→ Credits

---
Overview
We started the
JoCo Cruise Crazy
Caribbean Treasure Hunt
on Tuesday, January 4th, 2011—our first "At Sea" day. The hunt ran for four days; at least twenty-five people participated at some point, and at least fifteen solved all the puzzles!
Our Game Control station was in the corner of the Tabletop Gaming room on deck 3 of the
Eurodam
. Two new puzzles were released each day, plus a meta-puzzle on the fourth and final day (and a bonus audio clue for those die-hards who stayed up until the wee hours).
Every player was offered a red question mark logo sticker for starting the hunt, and received a foil star sticker (their choice of colors: silver, red, blue, green, or gold) for solving each puzzle. Solving the final meta-puzzle earned them an "Achievement Unlocked" sticker.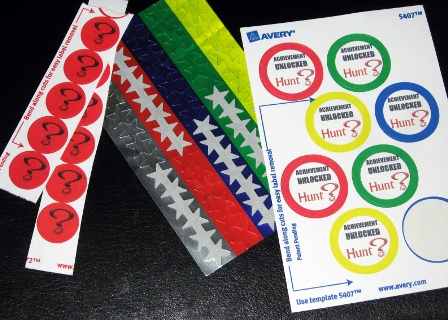 The first three people to solve the meta-puzzle also each received a lovely souvenir glass from
Margaritaville
(translation: extra
crap
goodies we didn't want to carry home ourselves).
Game Control members could be identified by stickers on their badges, and were prepared to confirm puzzle answers and award stickers at any time if you encountered them on the ship.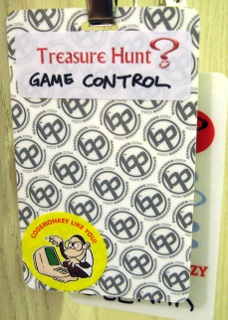 As it turned out, most people preferred to just meet us in the Tabletop Gaming room when it was open.
Want to know more?
Two of the organizers, Curtis and DeeAnn, did a full debrief of the event on their weekly Game Control podcast! Listen to
SnoutCast #48: "JoCo Cruise Puzzley."
---
Puzzles and Solutions
* Requires information found aboard the Eurodam to solve
---
Credits
Thanks to everyone who helped organize the hunt, created or playtested puzzles, and otherwise assisted or supported Game Control!
Acorn Pooley
Ben Canant
Bruce Rogers
Cathy and the Eurodam Front Office staff
Corby Anderson
Crissy Gugler
Curtis Chen
David Rees
DeeAnn Sole
Derek Moore
Kristi Taylor
Lisa Goodrich
Lisa Ann Strand
Sean Gugler
Steve Bennetts
This work by "JoCo Cruise Crowd" is licensed under a Creative Commons Attribution-NonCommercial-ShareAlike 3.0 Unported License.
For more information on puzzle hunts, visit Team Snout.