What To Expect
Curtis and DeeAnn are not traditionalists. In fact, some might even call us iconoclasts.
| THERE WILL BE | THERE WILL NOT BE |
| --- | --- |
| A wedding ceremony • Plenty of our favorite foods, served family style • Beer, wine, soda, and our favorite beverages • Plenty of sweets • Party clothes • Table games • A game show • Music • Prizes/presents • Fun! festivities | Religion • A buffet or elegant sit-down meal • A full or cash bar • A fancy wedding cake table • A dress code • Dancing • Cocktail hour • Posed photographs • A DJ • A bouquet or garter toss |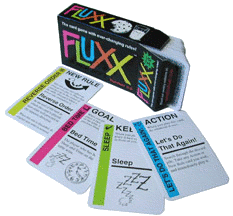 How to Play the Game of Love:
Come to the wedding!
You received four Fluxx expansion cards as part of your invitation, and you need a complete Fluxx deck to play. Conveniently enough, one Fluxx deck will be on each table at the wedding.
For more information about Fluxx, visit the Looney Labs web site: http://www.wunderland.com/LooneyLabs/Fluxx
What to wear:
It's our wedding; we're dressing up. You can wear anything that makes you happy!
What about kids?
A wedding is a family event. Children are welcome. We'll provide kid-friendly games and crafts for ambulatory children. You're on your own with babies.
What's this about a game show?
Instead of dancing, our reception will feature a friendly competition called Win Curtis and DeeAnn's Wedding Presents* (with apologies to Ben Stein). More details coming soon!
* Not actual wedding presents.