Registry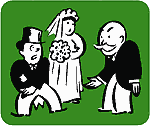 Are you strapped for cash? Do you hate shopping? Do you wish the whole wedding gift issue would just vanish? Well, have we got an offer for you!
Forget gifts, and just come to our wedding. We'll be happy to see you. We invited you because we like you, and we don't get to see enough of you. The opportunity to spend some time with you is the best gift we could ever get.
If that's not enough of a gift, then we won't stop you from giving us something else. Heck, we'll even provide a few suggestions... We know a lot of you aren't going to believe us anyway.
But really, this is important:
No gift? No guilt! Come to the wedding. We want to see you.
---
And now for those suggestions. In no particular order, these are some things we would love to receive:
An invitation to spend time with you after the honeymoon! After all, we invited you to the wedding because we like you and we don't get to see enough of you.
The knowledge that you've helped someone who is less fortunate than we are. We live a good life, and would like others to have the same opportunity. Now, far be it for us to tell you to whom you should donate-- if you have a pet charity, you know already; if you don't, we'd rather not influence you. But if you're short of ideas, helping tsunami victims would be a good place to start.
A subscription to a magazine which you think would improve our character. Curtis now gets Entertainment Weekly, Wired, PS238, and Astonishing X-Men. DeeAnn let her subscriptions lapse before our most recent move, but used to get Health, F&SF, and Analog... and wishes she had thought of PS238 first.
A game you enjoy playing. Okay. So we have a lot of games. We'll give a list to Karin, Loren, and Raj. They can tell you if we already have something that you're thinking about.
Anything from one of our gift registries:
But remember, you coming to our wedding will be the best gift of all!