→ Overview
→ Puzzles
→ Solutions
→ Credits

Overview
Our second
puzzle hunt
on a boat was even bigger than the inaugural
JCCC1 Treasure Hunt
, with new creators, more puzzles, and the addition of fabulous prizes from
ThinkGeek
(thanks to
Paul and Storm
for funneling tchotchkes our way)!
---
Puzzles
* This puzzle was adapted and re-used for the
Puzzled Pint: National Water Safety Month
event on May 8, 2012, in Portland, Oregon.
---
Solutions
---
Credits
Game Control
("Puzzle Crew"):
Corby Anderson
DeeAnn Sole
Sean Gugler
Sunshine Weiss
Acorn Pooley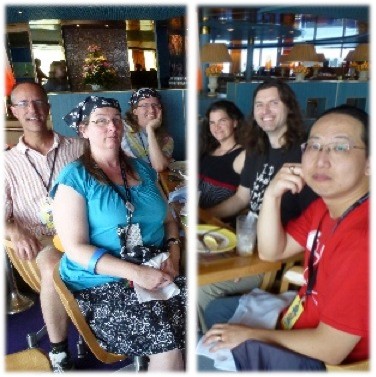 (original photo by Renee Camus)
Pirate Bandannas purchased from
Oriental Trading Company
"Captain JoCo" cartoon image by
Len Peralta
Music by
Jonathan Coulton
Altered movie poster images from
TheShiznit.co.uk
---
This work by "Team Snout" is licensed under a Creative Commons Attribution-NonCommercial-ShareAlike 3.0 Unported License.