What's New Pussycat?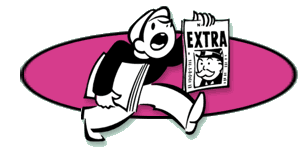 05 Apr 2006

Added some photos!

04 Mar 2005

Added menu for Dim Sum Sunday.

27 Feb 2005

At Karin's request, changed her "words to live by" on the About Us page.

17 Feb 2005

Added explicit frames/no frames links to main navigation pages.

13 Feb 2005

Added Dim Sum Sunday info and online RSVP form!

10 Feb 2005

09 Feb 2005

Replaced Yahoo! Maps link on Getting Here page with link to spiffy new Google Maps BETA!

08 Feb 2005

Updated About Us page with biographical information.

12 Jan 2005

Added wedding-party-only email address (excludes Curtis + DeeAnn) to Registry and Contact Us pages.

05 Jan 2005

Web site launched!